The Only Way to Experience the Outdoors
70 Mile Range - 2" Ball Hitch Included
The EV Adventure has an effective 5kW motor made to increase the ATVs incline climbing power. This electric four wheeler boasts a smooth chassis that glides over debris. Environmentally friendly, with a completely silent motor, the EV Adventure electric ATV is the perfect tool to experience the outdoors.
Financing Options Available
Due to increased interest, our dealerships are sold out.
Please reserve your ATV(s) by placing a $150 deposit(one per unit)!
SPECIFICATIONS
Power Unit
Drive
---
One speed w/reverse Rear Wheel Drive
---
Tow Capacity
---
600 lbs (272kg)
---
---
Dimensions
Length
---
81.5 in (207.01 cm)
---
Net Weight
---
469 lbs (212.74 kg)
---
Ground Clearance
---
12 in (30.48 cm)
---
Battery Weight
---
47 lbs ( 21.32 kg)
---
---
Chassis
Front Brake
---
R/L DRR Dual Disc Wave Rotor Technology
---
Rear Brake
---
R/L DRR Dual Disc Wave Rotor Technology
---
Front Suspension
---
Dual A Arm Independent Suspension
---
Rear Suspension
---
Monoshock Swing Arm
---
---
Battery Information
Removable Battery
---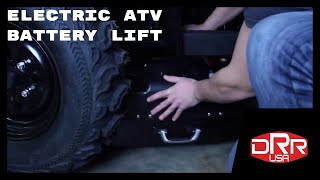 Yes
---
Battery Type
---
72V Lithium Ion
---
Range
---
70 Miles (80.47 km)
---
Charge Time
---
70 Mile Battery Pack: 6-8 Hours
---
---
PO BOX 875 Brunswick, OH. 44212
¹ Based on average battery life under typical usage conditions. Average expected performance based on typical use. Actual battery life depends on factors such as speed, terrain conditions, degree of climb, and usage patterns. Results may vary.
Prices subject to change at any time without notice. Manufacturer's Suggested Retail Prices exclude all tax, title, licensing, registration, and documentary fees, dealer preparation charges, dealer installed options, insurance, certificate of compliance or non-compliance fees, and finance charges. Dealer pricing may vary. Contact DRR USA or an Authorized DRR Dealership for current prices and prices not listed. Dealerships may choose to substitute parts. Additional options may be available at additional charges. All information concerning the scope of supply, appearance, services, dimensions and weights is non-binding and specified with the proviso that mistakes, printing, setting and typing errors may occur; such information is subject to change without notice.

Pre-approved financing provided based on creditworthiness. DRR USA does not guarantee that the financing provided will cover the entire cost of the vehicle. Other financing options provided at the point of sale